Mercredi 30 juin
Le service client est absent. On se retrouve demain ;-)
Granulés de ramonage pour poêle à pellets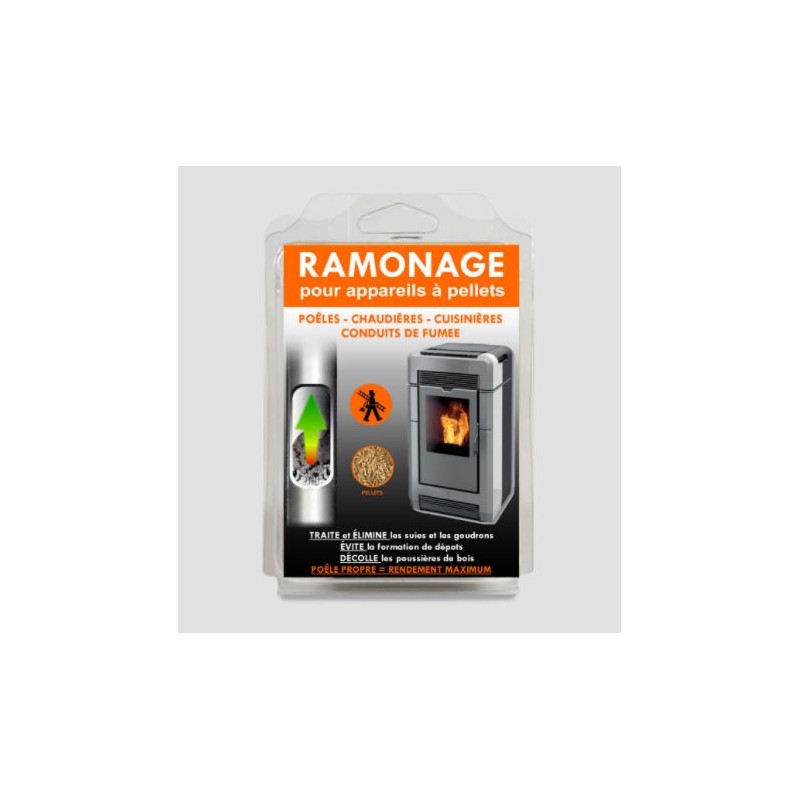  
Ce nettoyant pour ramoner est spécifiquement réservé pour les appareils de chauffage à pellets tels que les chaudières, les poêles, les cuisinières ou encore les conduits de fumée.
Ces granulés constitués à partir de 100% de matière active sont à mélanger avec les pellets lorsque vous chargerez le réservoir.
3 sachets = 3 mois d'entretien
Tax included
in stock – delivery in 1 to 2 working days
Pourquoi utiliser les granulés de ramonage ?
Ces grains de ramonage ont pour avantage d'avoir un effet curatif. Ils permettent d'entretenir correctement les conduits de vos appareils en retirant notamment toutes les poussières de bois, les suies et en dégradant les résidus de goudron durant la combustion. De plus, ces granulés de ramonage ont un effet préventif, ils ont pour rôle d'anticiper les feux de cheminée tout en rétablissant le pouvoir calorifique de votre appareil.
Comment utiliser les granulés de ramonage ?
Ce nettoyant pour appareil de chauffage fonctionne grâce aux vapeurs obtenues par leur combustion avec les pellets. Ces granulés sont simples d'utilisation. En effet, il suffit simplement de vider un sachet de 40g dans un sceau contenant également 1,5kg de pellets de chauffage. Puis, mélangez l'ensemble des produits afin de les placer dans le réservoir de votre appareil, une fois que ce dernier est vide. 
Lorsque la préparation a brûlé, n'oubliez pas de récupérer les résidus et de remplir à nouveau le réservoir de pellets. 
3 sachets de 40g = 3 mois d'entretien
Data sheet
Type

Protection feu
100% secure payments
Questions
Be the first to ask a question about this product!